howdy
i still owe this website an actual post but in the beantime as tommy pickles would say:
1)
re:
my last post
to the people who voted in favour of "shaking my head":
( Read more... )
to those who voted in favour of hate: god is with you.
2)
since everyone is doing this meme
that i created exactly 2 years and 4 months or so ago
(recognise) i figured i might as well bring it full circle to remind us all who really runs this sorry crib. so with no further ado:
HOW THE FUCK DID WE BECOME FRIENDS? : the meme.
(operates as implied)
3)
WHAT KIND OF SEAMLESSLY CONSTRUCTED ORCHESTRAL MELODIC BALLAD/ELECTRONIC DANCE HYBRID MASTERPIECE?
… IS IT TOO EARLY TO CALL SONG OF THE YEAR (anywhere)?
BECAUSE
.
when that bass dropped? reader, i birthed a fucking child.
tl;dr this band is the reason god invented pop music; nothing to see here.
((((P.S.
I WOULD LIKE TO THANK NOT ONLY GOD BUT ALSO JESUS
. TAKE ME TO CHURCH, YOUR FAVES WISH THEY COULD (BUT THEY
CAN'T
), &c.&c. """""""second best"""""""" vocalist my HAIrY SPLeEN.
I WILL FIGHT YOU.
))))
(would i get into a knife fight over this?
probably
.) #biases are serious business
k bye

To whoever may give a fuck: My
Elena Gilbert manifesto
is now up at

het_reccers
. If the idea of a bi-partisan Salvatore-friendly fic dump that

softly_me
and I have put together appeals to you, oh flisters (and… why wouldn't it?), come and… ~bask. As a bonus, you will be treated to ~1, 300 words worth of stanning by me… Yay. (Or, you could just skip that and enjoy the fic. YAY!) VERY SADLY, the comm. doesn't allow threesomes; however, I am loath to have good recs go to waste, so…
( shit that h_r won't let me rec )
P.S. By

catbirdfish
, good chum: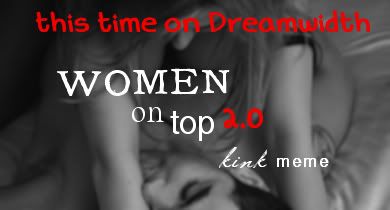 Go write (me) some porn. Ta.
P.P.S. I WORRY FOR YOU, EL JAY. TAKE CARE. DON'T LEAVE ME FOR TOO LONG.